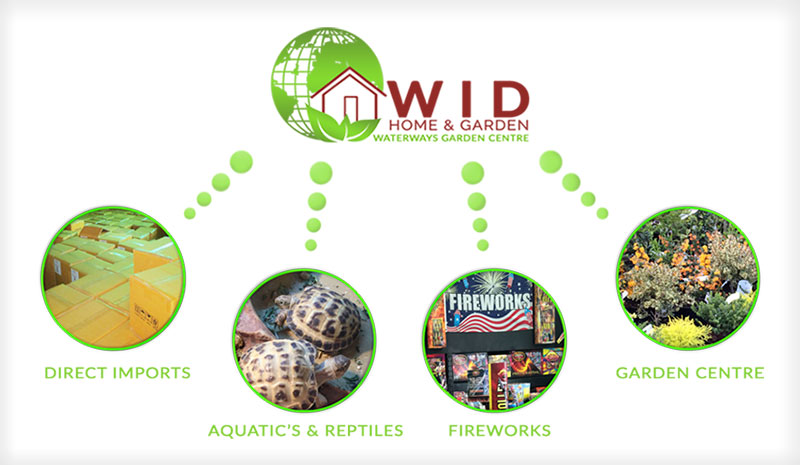 About us at Waterways Garden Centre. We have grown into a large and customer friendly centre for indoor and outdoor garden needs, cold water  and tropical fish, reptiles and care supplies and fireworks.
New this year is the opening of a direct import store, these new products are available at our centre and for convenience also on our new online store. We have a staff member that selects and does quality control on location to ensure we supply the best possible to our customers.
Our Garden supplies include indoor and outdoor plants, trees, potting mixes and fertilizers, huge range of pots and garden decorations, all your garden tool needs and an amazing selection of seeds to get your garden looking great.
Our Aquatic and Reptile centre
We have been trading since 1979 when we 1st came to Wrexham. We started with a pet shop on lord Street "Wings & Fins". After running an Aquatic centre at the Grosvenor garden Centre for a year we had the opportunity to take over a run down garden/ building centre in Lavister Rossett. This got bigger and bigger till 1995 when we acquired the site at Wrexham. We have improved this site each year and we now have a huge undercover area and extensive outdoor display area. We have large a Aquatic, Reptile, shrub, Furniture ,pot, compost sections and children's play areas (inside and out)
WHAT OUR CUSTOMERS SAY ABOUT US
Reserved a Bearded Dragon
Been today to reserve a bearded dragon for my daughter's birthday. The staff here are just amazing and have been so kind to my daughter over the past few months while we've been visiting to look at the dragons. Nothing is too much trouble and always more than happy to help. All the animals are extremely well cared and looked after by wonderful staff.
By Far the best Aquatic Centre in North/Mid Wales
Visited today, bt far the best aquatic centre in north/mid Wales, puts other stores to shame with cleanliness of the fish tanks and ALL fish looked to be in suburb health! Helpful staff and great prices. Will be making the 5 hour round trip again next year. Well done and keep up the good work. Keep me posted with new arrivals of uncommon fish.
Ordered Bedding Plants during the Lockdown
Ordered bedding plants during the lockdown. Had them delivered the same day and were brilliant quality. Very helpful when ordering on the phone too!
Brilliant Service
Brilliant Service, phoned this morning for a home delivery as not able to leave house. Plants delivered this afternoon. Excellent quality. Thank you